How To Close Out A Real Estate Wholesale Assignment Deal Inside Systemate
Just made a profit on one of your wholesale assignment deals? Not sure how to close out the deal inside of Systemate?
John Cochran just made a $9,000 wholesale assignment deal, takes you into his Systemate account and will show you step by step how to properly close out this deal inside your Systemate account.
This deal will be closed out, your dashboard will be updated, your profit will be logged and you can easily go back inside the deal at any time in the future to access your notes and files.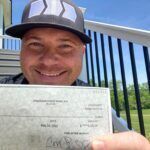 John Cochran
Systemate Founder
Real Estate Investor