Where's All The Inventory For Real Estate Investors?
I'm going to save you a ton of time right now in the next few minutes that it takes you to read this post right now.

A standard Real Estate Investor makes money by buying properties at a discount and then re-selling those homes for a higher amount to clear a profit.

We're in a pretty weird market right now where inventory is very low and the demand for a home is very high. This has made almost every single Real Estate Market in the county go nuts.

When I first started off investing in Real Estate I knew that I had to buy properties at a discount. The first thing that pops into our heads when we think that we need to buy at a discount is that we need to buy a home that's in, or been foreclosed on.

Typically a HUD home, Bank owned home, or an REO!

Now here's where I'm going to save you a TON of time.

A home only becomes a HUD home, Bank owned home or an REO after someone has not made a payment on their home for some time, the bank forecloses on the homeowner, and takes possession of the property. It takes on average over 2 years for a bank to foreclose on a homeowner after they stop making the payments to the bank.

Below you will see a graph of the average time it takes a bank to foreclose after they filed a foreclosure against the homeowner!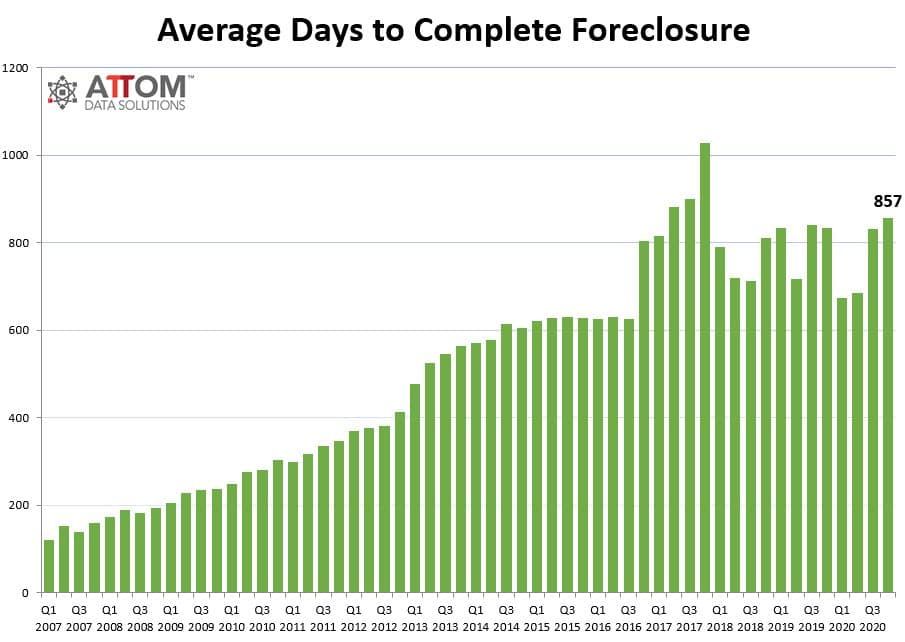 This means that if someone stops making their mortgage payment today, it will take on average over 2.3 years before we as Real Estate Investors will see the home become available as a HUD, Bank Owned, or REO property.

Now check this out: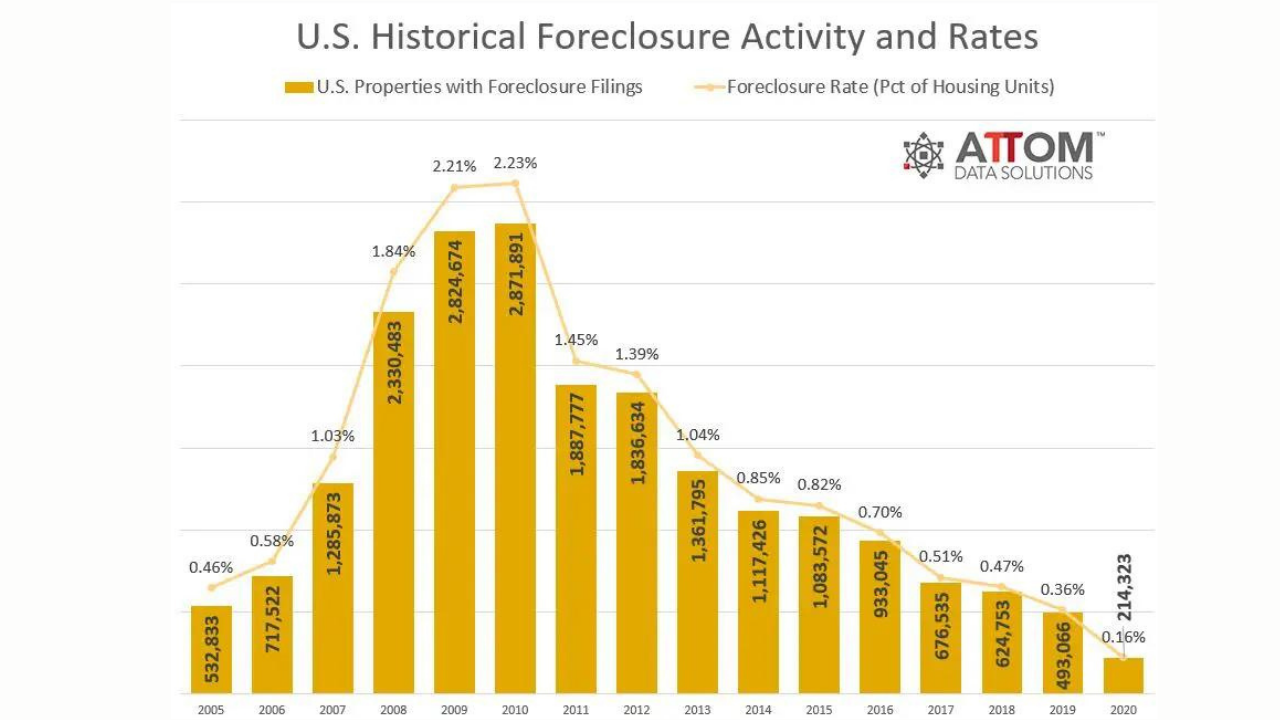 This is a graph from Attom Data of the average foreclosure activity in the entire United States since 2005.
Foreclosure filings have been going down since 2011 to nearly nothing in 2020.
As that graph goes down year by year you just have to remember the graph on how long it takes to foreclose on a person after they stop making their payment.
With the graph going down in foreclosure filings, that means that we won't see anything in the HUD, Bank Owned, or REO space for years to come.
With filings so low (really since 2017) that means inventory is going to be low for quite a while.
Me as a Real Estate Investor, knowing this, I don't even waste my time looking for these properties because I know the inventory just isn't there. Foreclosures could start booming today, but we wouldn't see the inventory hit the market for another 2+ years if that happened because of the time it takes to foreclose.
So what do we have to do in order to find deals in today's real estate market as an investor?
How do we find those discounted deals that we need to buy?
You must go direct to sellers in this market! Again… You must go direct to the sellers in this market.
This means you have to buy lists or compile lists yourself with sellers that would/should be motivated to sell their house now.
You have to get these lists and start marketing to these sellers with Direct Mail, ringless voicemails, SMS marketing technology and get those sellers to call you.
That's the secret sauce to the next handful of years as a Real Estate Investor. You HAVE to get direct to the seller in order to find deals. You must go off-market and start marketing to these sellers now.
Systemate is now a major player in the lead providing space with lists of leads that NOBODY has! NOBODY!!!
With our proven marketing and follow up technology it pretty much makes a Real Estate Investor unstoppable now that we have built in leads that nobody else has!
In the next coming weeks I will be taking you inside the new version of Systemate that we built just for this crazy market that we're all in and going to be in for a while.
In the meantime, just remember that if you're currently searching for HUD homes, Bank Owned, or REO homes that you're probably wasting your time and won't find many/any in your market because of what I showed in this post.

John Cochran
CEO of Systemate
Real Estate Investor